How to Fix a Car Dent or Scratch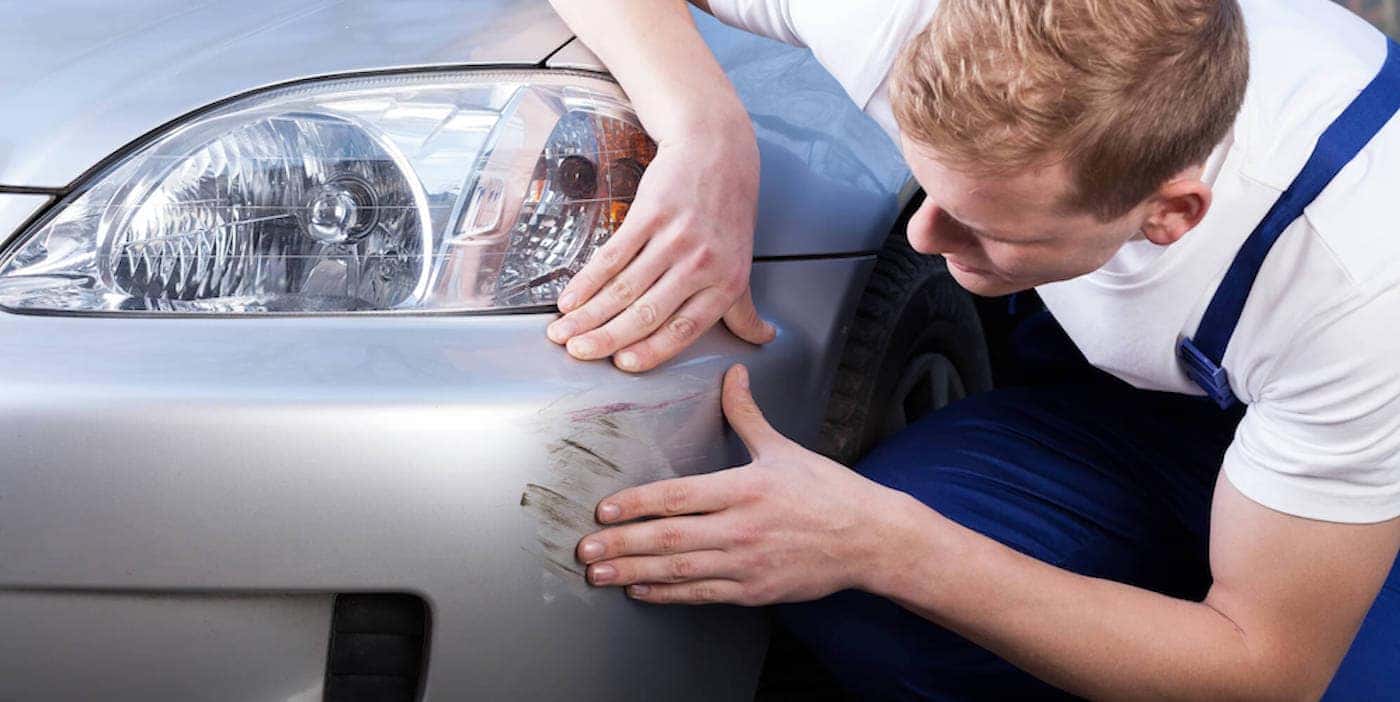 If you happen to find a dent or scratch on your car, you can often fix the issue on your own at home! It's actually easier to repair than you might think. This guide by Barnes Crossing Volkswagen in Tupelo will walk you through how to fix a small dent in a car yourself, as well as repair scratches.
How to Fix a Dent in a Car
The following methods can help you remove a car dent:
Suction Cup: A suction cup creates a vacuum-like effect that allows you to pull out the dent and get back on the road in Starkville in a blemish-free vehicle. Dent-Repair Kit: Stick the pulling attachment into the middle of the dent, position bridge over the dent, make sure the screw is in its hole, and pop out the dent by slowly pulling the rod and suction cup outward.
Boiling Water: Pouring boiling water on a vehicle's plastic surface, like the front and rear bumper cover, will soften them up and you can push the dent out from the inside.
Hair Dryer and Maller: Concentrate the heat from the hair dryer on the dent for a few minutes, then take the mallet and knock the dent back into place.
Barnes Crossing Volkswagen experts provide information on DIY Car Care so you can learn how to properly take care of your vehicle at home in Oxford. Or, contact our service center to receive high-quality vehicle care from our technicians.
How to Fix Scratches On a Car
Clear coat scratches are another type of cosmetic blemish that can often be treated right at home. Here's how to fix scratches on a car:
Run your fingernail along the scratch to determine its depth. If your fingernail doesn't catch, the scratch isn't deep. If it does catch, the scratch is deep.
Clean the area with soapy water and a towel to remove dirt.
Tape off the scratch so you can easily locate it while fixing it.
Sand down the scratch. Use 3000 grit sandpaper for deep scratches and 5000 grit for thin ones. Before sanding, make sure to spray down the scratch and sandpaper with water. Sand down the scratch against the grain.
Keep sanding until the scratch disappears. If you started with 3000 grit, move to 5000 grit sandpaper.
Polish the surface again with a microfiber towel, moving the towel in a swirling motion. Once polished, use a microfiber towel to remove any excess and buff the surface.
Add wax to protect the clear coat, add a protective coating to your paint, and you'll have a scratch-free vehicle to drive around in Oxford!
Visit Barnes Crossing Volkswagen for Your Car Repair!
Fixing dents in cars or fixing scratches on cars can be quite easy tasks. However, if you have any dents or scratches you need help repairing, contact us or go online and complete our online service scheduler. We can also show you how to check your oil so you can keep your car running well from home.
More from Barnes Crossing Volkswagen
When you're ready to trade up to a premium driving experience, the new Volkswagen Tiguan is waiting for you at Barnes Crossing Volkswagen. This exceptional model offers head-turning good looks to help you make an impression on the Starkville streets and plenty of power to make your Oxford adventures more enjoyable. Thanks to a powerful Tiguan…

Offering something old and something new in a model that everyone will want to borrow to wash away their blues, the 2023 Volkswagen ID. Buzz design is certain to conjure feelings of nostalgia for the joys of yesteryear. While the new Volkswagen ID. Buzz is like a memory come to life, this classically-styled EV offers…

If you're doing research on the new Volkswagen Taos for sale in Tupelo, then you have great automotive tastes. This versatile, agile, and stylish SUV is here to boost your commutes from Starkville to Oxford. With three Volkswagen Taos configurations to choose from, finding your fit is a straightforward process. Below, you can learn…